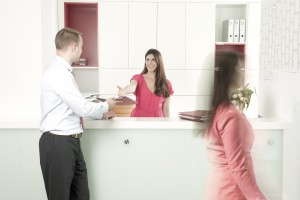 The Law Office of Daniel Raimer specializes in the areas of
IT and media law
, as well as
claims management
. Founded by Daniel Raimer in his living room in 2005, we have since grown to a medium-sized law firm located in Düsseldorf's MediaHarbor district, which is home to around 300 companies, mainly from media and communication, fashion and architecture, art and culture.
Our
staff
is extremely internet-oriented and is occupied with various internet, technology and media-related subjects – even outside of work! We focus strongly on solutions and develop technical legal solutions both for our clients and our own purposes as needed. Our
free website quick check
for making sure online shops are legally compliant is just one example of this.
Our clients include Swiss-based RapidShare AG, Germany's leading adserving specialist, ADITION technologies AG, as well as numerous other ambitious companies in the IT sector.
We are a fast-growing emerging, dynamic law firm. Because of this, we are always looking for excellent lawyers who share our passion for internet issues and want to join us in moving forward. You can find information on current vacancies on our Careers page.